Detailed Home Inspections understands the value that people place on their homes … the ones they own and those they are planning to purchase.
Unlike many firms in our profession, the services provided by Detailed Home Inspections don't end when our home inspection does.  We provide four additional means of support as part our Home Protection Services program.
First, every home inspection we conduct for a buyer comes with a 90 day warranty, so you can have confidence in our findings.
After the inspection, we enroll our clients in the Home Owners Network for one full year (a $199 value).  Any time you have a question relating to home repairs or improvement, HON is there to provide answers, resources, and discounts for their members.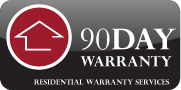 We also register our clients with RecallChek.  Any time an appliance or piece of equipment is subject to recall, you receive notification.  It's another way we help our home owners safeguard their properties and families, long after their inspection is complete.  Please on the button to the left to learn more about this program.
If we have not inspected your home, you can still get a RecallChek of the appliances and equipment in your house. Gather the model number and serial number from all of your appliances and equipment (kitchen appliances, washer, dryer, water heater, HVAC equipment, garage door operators, etc.) in your house and click the RecallChek button to the right. There is a short video included on that page with more information.
Finally, we are able to provide our clients with access to a wide range of security systems and discounted pricing options, so that their families and belongings are protected at all times.
Our Home Protection Service program is another way Detailed Home Inspections goes the distance to provide service to our customers.
Schedule your inspection conveniently, right here on our website.  Or for information about Detailed Home Inspections and the services we offer in communities such as Raleigh, Cary, Apex, Holly Springs, Fuquay-Varina, Garner, Clayton, Smithfield, Lillington, Knightdale, Wake Forest, Durham and Chapel Hill, please call 919-608-3742
919-608-3742 or email inspect@detailedhomeinspections.com.